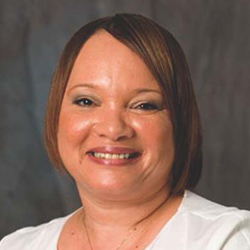 Dr. Robin Hall is the Director of Language Arts and Literacy for the Council of the Great City Schools. She keeps members informed about research on systems and successful strategies for improving student achievement. Dr. Hall also provides support for development and dissemination of information and tools to implement the Common Core State Standards.
Dr. Hall has served in various capacities for Atlanta Public Schools, including as a principal, high school language arts teacher, executive director of K-8 schools, K-12 language arts coordinator, instruction liaison specialist, and language arts department chair, constituting more than 25 years of educational experience. Dr. Hall has also served on the Council of Great City Schools support teams in the areas of curriculum, instruction, and professional development.
From 2006-2009, Dr. Hall served as a member of the National Assessment Governing Board, and was appointed to its assessment development committee. She received her bachelor's degree in English from Vassar College, as well as a master's degree and doctorate from Clark Atlanta University.