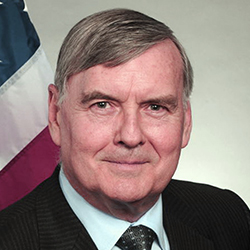 Steve Murdock
Title line one

Director, Hobby Center for the Study of Texas
Steve Murdock is the Allyn R. and Gladys M. Cline Professor of Sociology at Rice University. He previously served as director of the U.S. Census Bureau, having been nominated for the position by President George W. Bush and unanimously confirmed by the U.S. Senate in 2007, and serving until the change in administration in January 2009.
Prior to his appointment at Rice, Dr. Murdock was the Lutcher Brown Distinguished Chair in Demography and Organization Studies at The University of Texas at San Antonio (UTSA) and the director of the Institute for Demographic and Socioeconomic Research. Before UTSA, he was a Regents professor and head of the Department of Rural Sociology at Texas A&M University. He was also the official state demographer of Texas, appointed by Governor Rick Perry as the first person to occupy this position. 
Dr. Murdock earned his doctorate in demography and sociology from the University of Kentucky. He is the author or editor of 13 books and more than 150 articles and technical reports on the implications of current and future demographic and socio-economic change. He is the recipient of numerous honors and awards, including the Faculty Distinguished Achievement Award in Research from Texas A&M University, the Excellence in Research award and Outstanding Rural Sociologist Award from the Rural Sociological Society, the Distinguished Alumni Award from North Dakota State University, and the Distinguished Alumni Award from the Department of Sociology at the University of Kentucky.  
Dr. Murdock was named one of the 50 most influential Texans by Texas Business magazine in 1997 and as one of the 25 most influential people in Texas by Texas Monthly in 2005. He is a member of the Phi Beta Kappa, Phi Kappa Phi, and Phi Eta Epsilon national honor societies.
Information From Steve Murdock