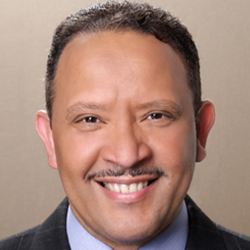 Marc Morial
Title line one

President And Chief Executive Officer, National Urban League
As president of the National Urban League since 2003, Marc Morial has been the primary catalyst for an era of change—a transformation of the century-old civil rights organization. His energetic and skilled leadership has expanded the League's work around an empowerment agenda, which is redefining civil rights in the 21st century with a renewed emphasis on closing the economic gaps between white and black, as well as rich and poor, Americans. Under Mr. Morial's stewardship, the League has had record fundraising success and secured the Better Business Bureau nonprofit certification, which has established the League as a leading national nonprofit.
A graduate of the prestigious University of Pennsylvania with a degree in economics and African American studies, Mr. Morial also holds a law degree from the Georgetown University Law Center in Washington, D.C.
Mr. Morial was elected mayor of New Orleans in 1994, serving two terms, and left office with a 70 percent approval rating. A history, arts, music, and sports enthusiast, Mr. Morial has an adult daughter and is married to broadcast journalist Michelle Miller. Together they have two young children.
Information From Marc Morial