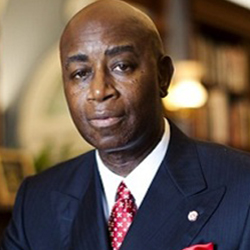 Rev. Barry Black
Title line one

Chaplain, United States Senate
The Rev. Barry Black was elected the 62nd Chaplain of the United States Senate in 2003. Prior to coming to Capitol Hill, he served in the U.S. Navy for more than 27 years, ending his distinguished career as the Chief of Navy Chaplains.
As Rear Admiral of the U.S. Navy, his personal decorations included the Navy Distinguished Service Medal, the Legion of Merit Medal, the Defense Meritorious Service Medal (two medals), the Meritorious Service Medals (two awards), Navy and Marine Corps Commendation Medals (two awards), and numerous unit awards, and campaign and service medals.
Rev. Black has been selected for many outstanding achievements. Of particular note, he was chosen from 127 nominees for the 1995 NAACP Renowned Service Award for his contribution to equal opportunity and civil rights. He also received the 2002 Benjamin Elijah Mays Distinguished Leadership Award from The Morehouse School of Religion. In 2004, the Old Dominion University chapter of the NAACP conferred on him the Image Award, "Reaffirming the Dream -- Realizing the Vision," for military excellence.
Information From Rev. Black