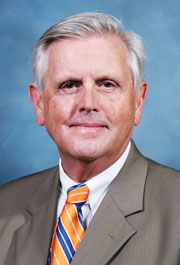 Terry Holliday, Ph.D
Title line one

Kentucky Education Commissioner
Terry Holliday, Ph.D., was selected as Kentucky's fifth commissioner of education in July 2009.
 
Holliday served as superintendent of the more than 20,000-student Iredell-Statesville school district from 2002 until 2009. Under his leadership, the Iredell-Statesville school district received the 2008 Malcolm Baldrige National Quality Award, which was created by an act of Congress in 1987 to recognize companies, organizations, businesses and other entities that have shown long-term improvement in quality and productivity.
 
Holliday's previous experience includes serving as superintendent, associate superintendent, director of accountability, principal, assistant principal, director of instrumental music and band director in North Carolina and South Carolina.
 
In December 2010, Holliday was named to the board of directors for the Council of Chief State School Officers (CCSSO).  CCSSO is a nonpartisan, nationwide, nonprofit organization of public officials who head departments of elementary and secondary education in the states, the District of Columbia, the Department of Defense Education Activity and five U.S. extra-state jurisdictions.
 
In September 2011, Holliday was appointed to serve a four-year term on the National Assessment Governing Board. The board sets policy for the National Assessment of Educational Progress (NAEP), known as the Nation's Report Card.

In June 2013, Holliday was appointed to serve a three-year term on the Board of Overseers of the Baldridge Performance Excellence Program.  The Board of Overseers, which consists of distinguished leaders from all sectors of the  U.S. economy, is appointed by the secretary of commerce to advise the Department of Commerce on the Baldrige Program.
 
Holliday is the co-author of Running All the Red Lights: A Journey of System-Wide Educational Reform.
 
He earned a bachelor's degree from Furman University; a master's degree and education specialist degree from Winthrop University; and a doctorate from the University of South Carolina.
 
A native of Belton, South Carolina, Holliday and his wife, Denise, are the parents of two children.