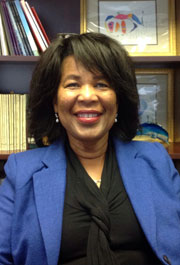 Peggy G. Carr, Ph.D.
Title line one

Associate Commissioner for Assessment, National Center for Education Statistics
Peggy G. Carr is the Associate Commissioner for Assessment for the National Center for Education Statistics (NCES), Institute of Education Sciences, U.S. Department of Education, responsible for national and international large-scale assessments.  Her primary responsibility is for the National Assessment of Educational Progress (NAEP), the National Assessment of Adult Literacy (NAAL), and the International Activities Programs, including the Program for the International Assessment of Adult Competencies (PIAAC), Trends in International Mathematics and Science Study (TIMSS), Progress in International Reading Literacy Study (PIRLS), Progress in International Student Assessment (PISA), and the Teaching and Learning International Survey (TALIS). NAEP is the largest and most complex of the large-scale assessments under Dr. Carr's direction and has been congressionally mandated since 1969. It is America's only ongoing monitor of students' academic progress of its kind.
Dr. Carr received her B.S. in Psychology in 1976 from North Carolina Central University in Durham, North Carolina, with a concentration in statistics. Both her M.S. and Ph.D. were obtained in developmental psychology in 1978 and 1982, respectively, from Howard University, Washington, D.C.  Before coming to NCES, Dr. Carr served as the Chief Statistician for Office for Civil Rights, U.S. Department of Education where she was engaged in the application of statistics and survey methods in the field of discrimination, legislative compliance reviews, and complaints. Before arriving at the Department, she served for nearly a decade as the Research Methodologist of Howard University's Statistical and Research Computer Laboratory where she managed a team of statistical computing consultants providing guidance to a variety of complex data analysis projects, primarily dissertations and master theses for all university schools and colleges. She also spent more than 15 years as adjunct faculty in the Graduate School of Arts and Sciences at Howard where she taught doctoral level graduate courses in statistical computing, quantitative research methods, and qualitative research methods. Dr. Carr has served on numerous doctoral dissertation committees and has published in a variety of areas including child psychology, social psychology, experimental psychology, bio-statistics, student achievement, and assessment methodology.
Dr. Carr first joined NCES in 1993 as Director of Analysis and Reporting in the Assessment Division before being appointed the Associate Commissioner. Dr. Carr has been a Senior Executive Service (SES) official for the Department of Education since 2001, and was awarded the Meritorious Executive Rank Award for sustained superior accomplishments in management of programs in 2008 by President George Bush.