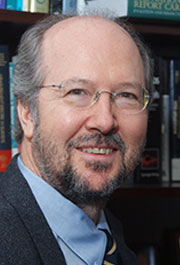 Gary Phillips, Ph.D
Title line one

Vice President, American Institutes for Research
Gary W. Phillips is a vice president and Institute Fellow at AIR who conducts research that advances the state-of-the-art in statistical and psychometric techniques. Dr. Phillips received his Ph.D. from the University of Kentucky with joint training from the college of education and department of statistics.

Dr. Phillips has 25 years of experience applying procedures related to psychometrics and statistical analyses. He is the author of several hundred conference paper presentations and publications in journals such as the Educational Researcher, Educational Measurement: Issues and Practice, Education Leadership, Applied Psychological Measurement, International Journal of Educational Research, Journal of Multiple Linear Regression Viewpoints, and Phi Delta Kappan. He has taught dozens of advanced, graduate-level statistics courses, and presented hundreds of workshops on advanced statistical and psychometric topics.

Dr. Phillips is nationally and internationally known for his expertise in large-scale assessments and complex surveys. His reports have received wide press coverage including articles in Education Week, Education Daily, Washington Post, the New York Times, the Wall Street Journal, USA Today, the International Herald Tribune, Christian Science Monitor, Chicago Sun-Times, and Bloomberg and have been covered in hundreds of local papers, blogs, radio-and television stations.

Dr. Phillips previously served as the Acting Commissioner of the National Center for Education Statistics (NCES), U.S. Department of Education where he was a member of the Senior Executive Service and directed the work of the National Assessment of Educational Progress (NAEP), the Trends in International Mathematics and Science Study (TIMSS), and the Program for International Student Assessment (PISA). He has conducted many national press conferences and is frequently asked to provide testimony at Congressional hearings and Congressional briefings.