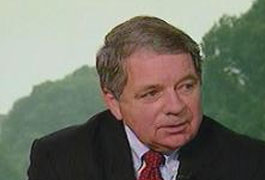 Charles Smith
Title line one

Former Executive Director, National Assessment Governing Board
Charles Smith served as the executive director of the National Assessment Governing Board from 2003-2008 and most recently was vice president and head of the Washington, D.C. office of ACT.

Mr. Smith is a veteran of education administration, including service as Tennessee's Commissioner of Education and Chancellor of the Tennessee Board of Regents. Smith was commissioner when Tennessee became the first state in the nation to publish detailed report cards for every public school in the state. He began similar report cards for all 46 schools in the Board of Regents system in his six years as chancellor.

His rich background also includes experience as chancellor for two University of Tennessee (UT) campuses, vice president over two separate divisions of UT's statewide university administration, and as editor of daily and weekly newspapers in Tennessee. He received his bachelor's degree in journalism from the University of Tennessee and both his master's degree in English and doctorate in higher education administration from the George Peabody College of Vanderbilt University.