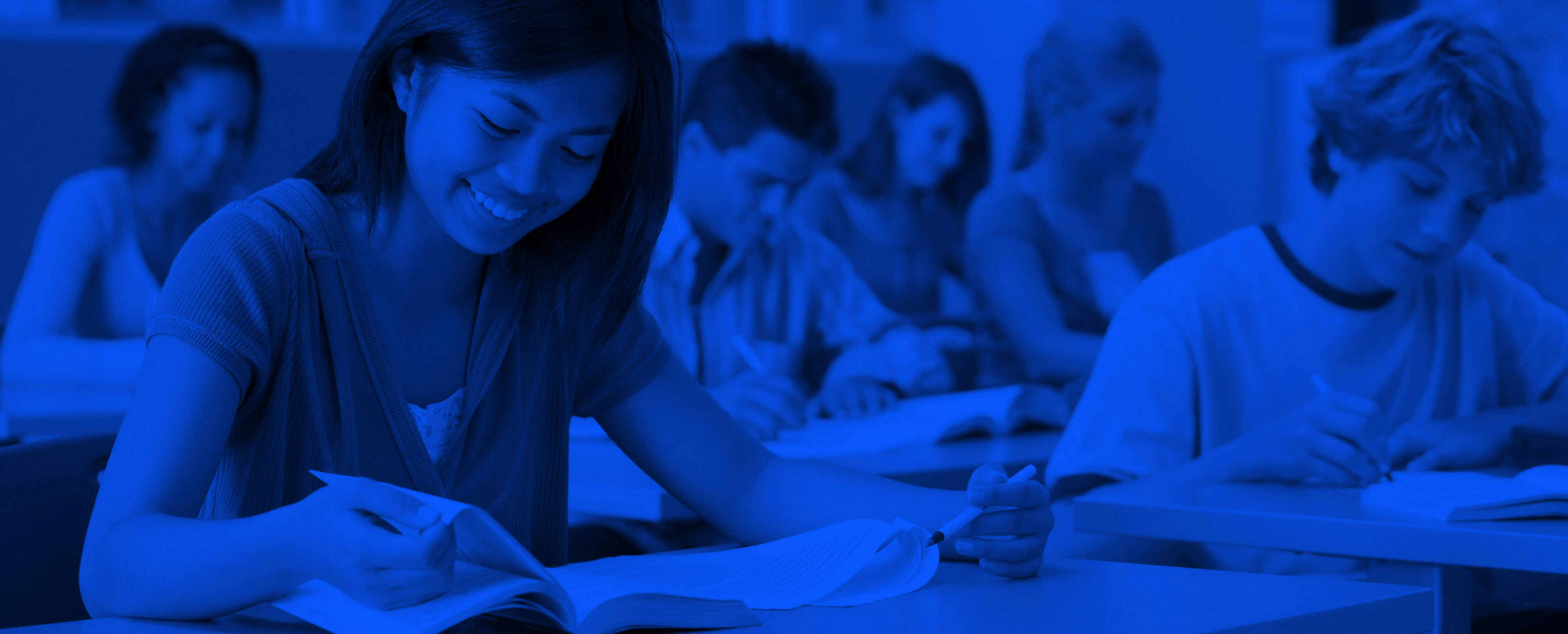 Trends in Reading Performance on the 2022 Nation's Report Card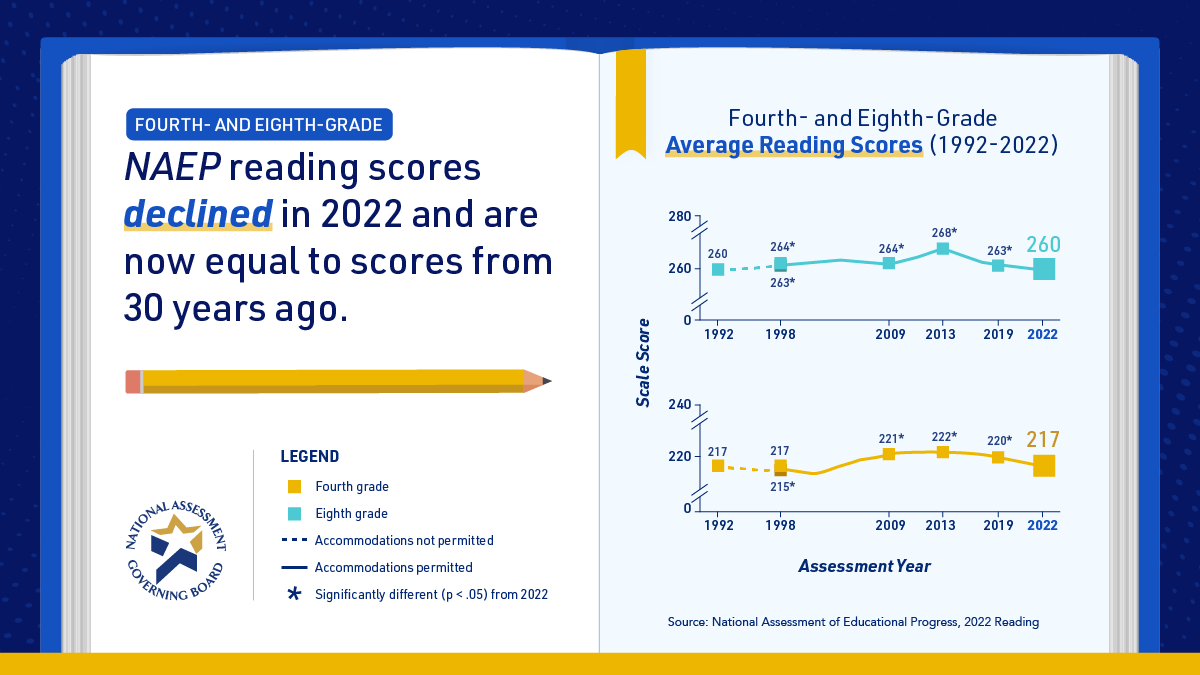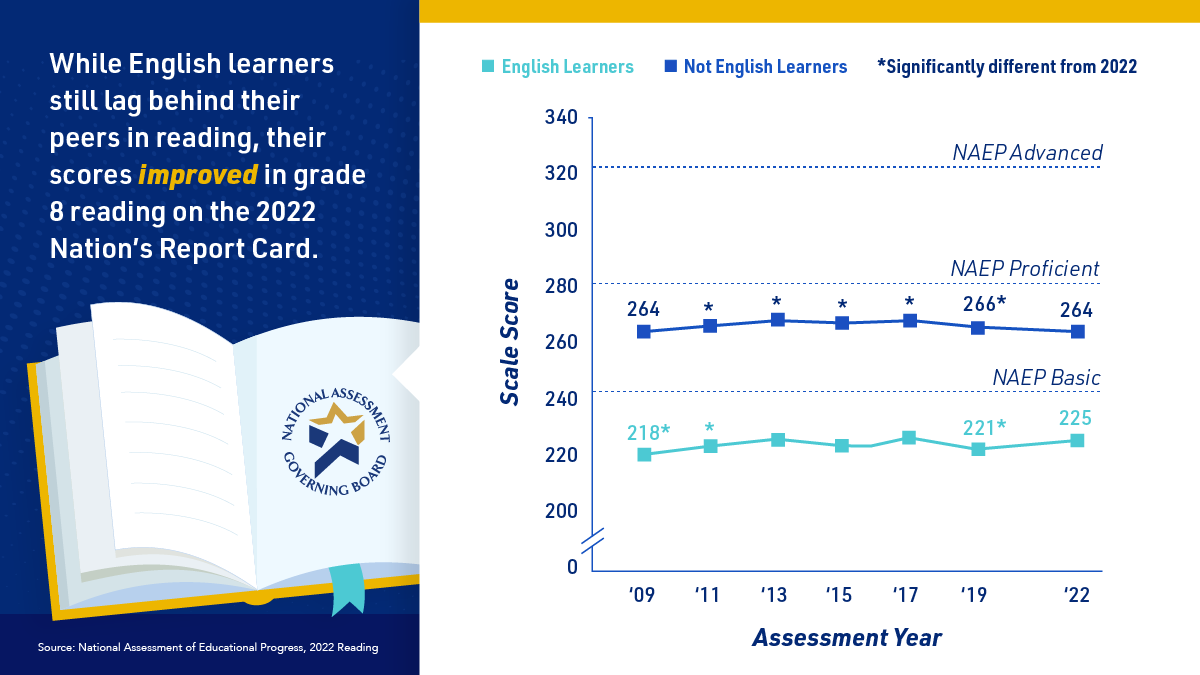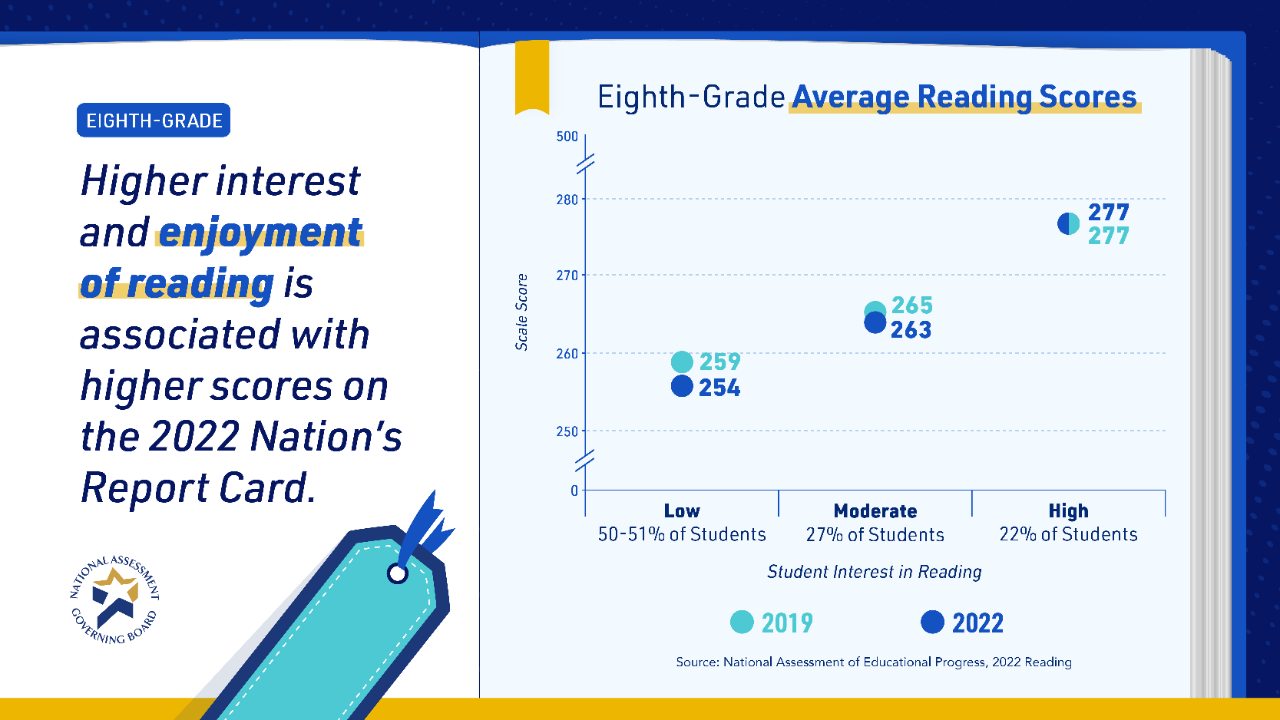 Students nationwide experienced across-the-board declines in math and reading on the 2022 National Assessment of Educational Progress compared with 2019. The steepest declines were in math but sagging reading scores also are a concern.
Members of the National Assessment Governing Board believe it is critical to use data to guide decisions related to improving student achievement. Some notable data points from the 2022 NAEP Reading Assessment include:
37% of fourth-graders scored below NAEP Basic in reading, as did 30% of eighth graders.
The 26 urban districts with representative district samples in the NAEP held steady in reading.
Fourth-grade reading scores declined most sharply among lower-performing students, further widening gaps between children working at high and low achievement levels.
In 2022, fourth-graders reported spending less time reading outside of school and expressed less interest in reading than fourth-graders in 2019.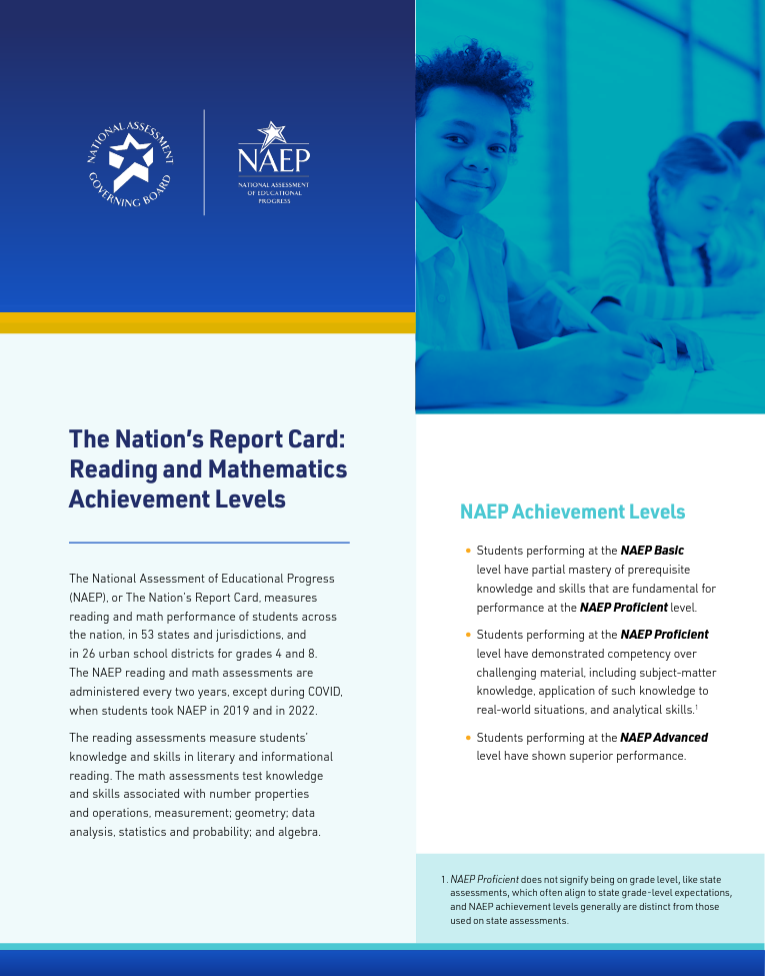 Interested in learning what students working at the NAEP Basic Level know and can do? Read this one-pager to understand NAEP achievement levels.
The fourth graders who scored below the NAEP basic level last year are in fifth grade today and will soon be headed to middle school. This is the crisis we need to address. Without urgent attention, these children could lose faith in their ability to succeed in school. We must use every resource at our disposal to revitalize reading instruction, to support teachers with professional development in reading and to strengthen students' reading muscles.—Former National Assessment Governing Board member and long-time English teacher Carol Jago in the Chicago Tribune. Nov. 7, 2022.
What's Next?
Current and former Governing Board member educators weigh in on how to accelerate reading learning.
1 of 4

Alberto Carvalho

Superintendent, Los Angeles Unified School District

Training and coaching: Provide teachers with continuous training and coaching support on the use of literacy evidence-based practices and monitor student progress using literacy assessment data to inform targeted whole class and small group instruction.
Highly trained interventionists: Assign interventionists to the neediest students and schools to accelerate learning in foundational reading skills, oral vocabulary development, and comprehension, including through tutoring sessions.
Content across literacy domains: Ensure students have multiple opportunities to appropriately engage with grade level content across literacy domains (reading, writing, listening, speaking). 


2 of 4

Nardi Routten

Fourth-Grade Teacher, Creekside Elementary School (New Bern, NC)

In my classroom, and across my district, gaps in reading are closing due to deliberate direct and differentiated instruction based on data and designed to meet specific needs of students. At the beginning of this school year, I administered a Word and Phonics screener to my fourth graders. More than 50% of them showed gaps in certain phonemic skills. After I provided specific differentiated phonics instruction based on the science of reading, many of these phonics gaps are closed. This instruction is also closing gaps in vocabulary and comprehension among my students.

3 of 4

Carol Jago

Associate Director of the California Reading and Literature Project at UCLA, Past President of National Council of Teachers of English

In order to read more proficiently, students need to read more. Avid readers consume many more books than their teachers assign and along the way garner large vocabularies, confidence with complex syntax, and familiarity with a wide range of text types. Volume matters. So does easy access to books. 

4 of 4

Frank Edelblut

Commissioner, New Hampshire Department of Education

We know how vitally important strong literacy skills are for our youth. As we work to empower children through reading, educators and other adults must be provided with the tools needed to build literacy proficiency for students, while also filling in the gaps across all subjects and academic areas. When children learn to read, they will inevitably read to learn. It is our hope that, understanding how difficult the past few years have been on students, we continue to provide them with every support available to close equity gaps, accelerate learning and not only recover, but aim higher.