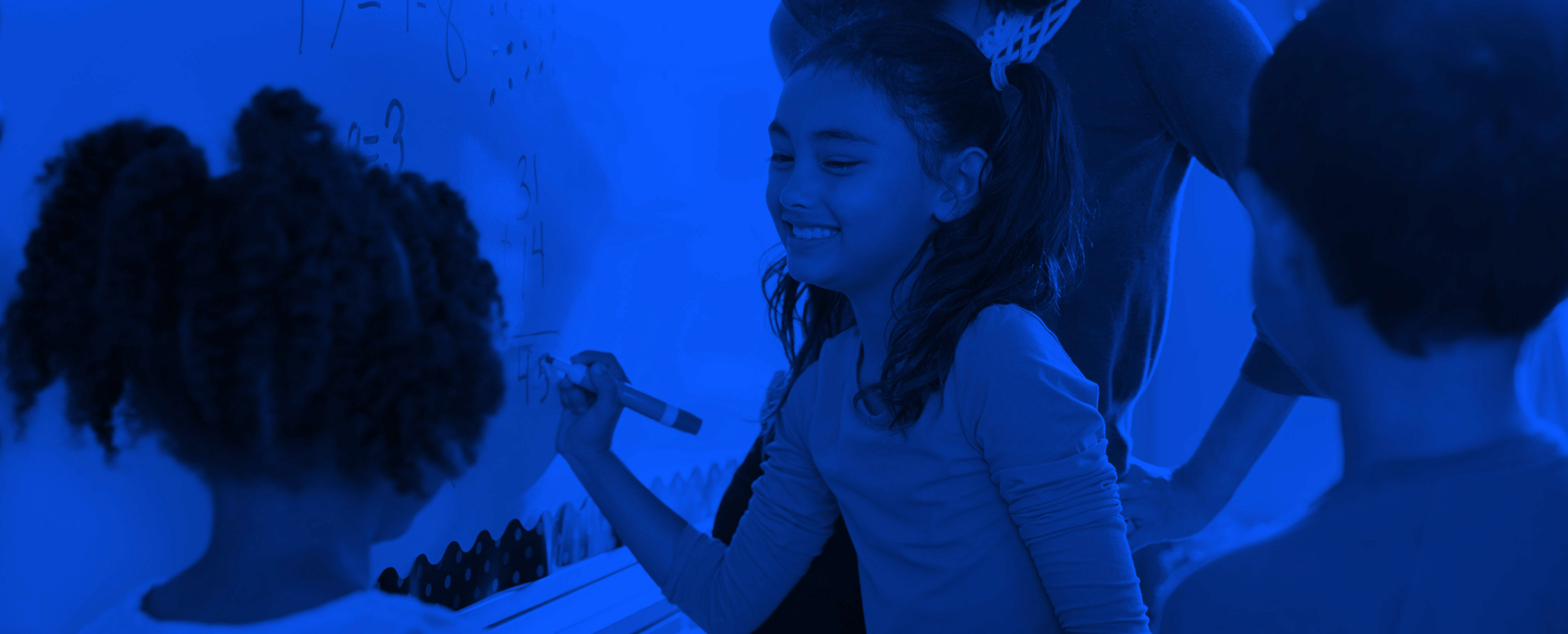 Trends in Mathematics Performance on the 2022 Nation's Report Card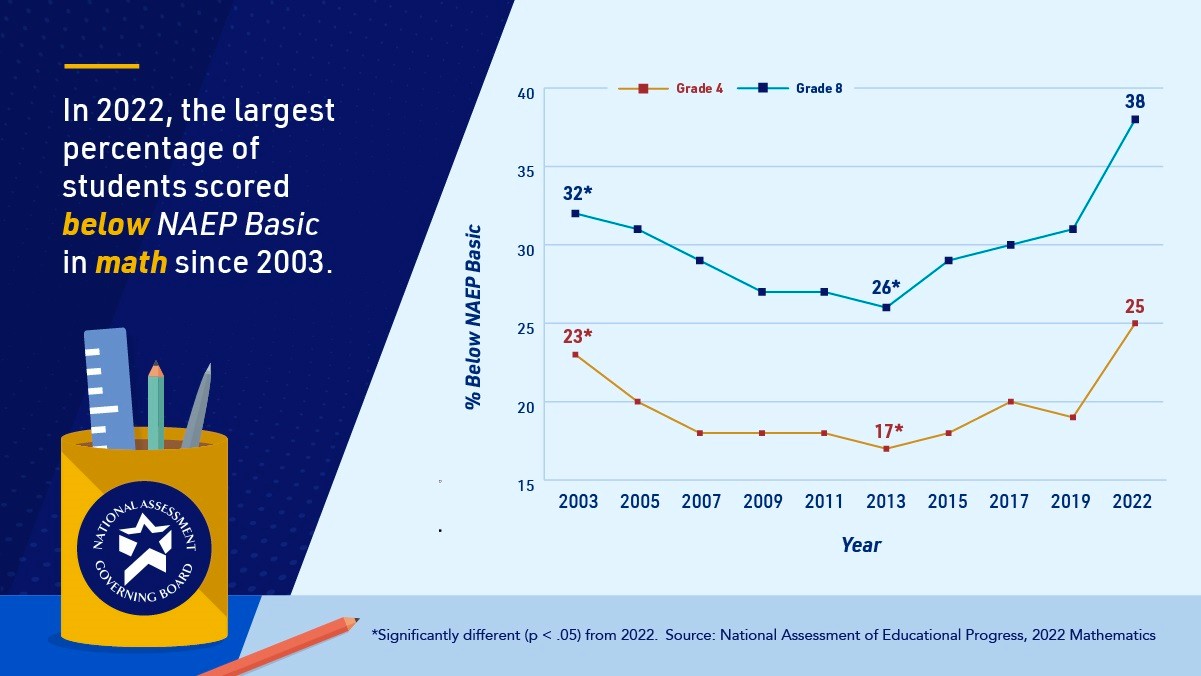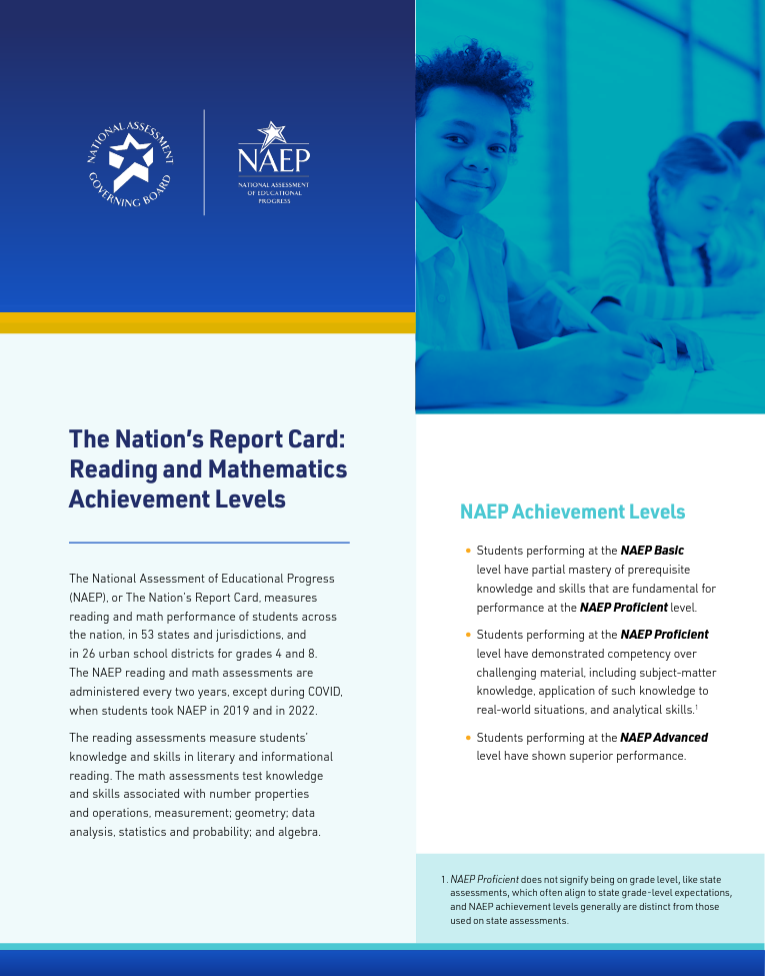 Want to see examples of what students at the NAEP Basic level can do? Find out from our one-pager.
Students nationally experienced across-the-board score declines on the 2022 NAEP assessments in math and reading compared to 2019, the last time the assessments were given. The steepest declines were in math, a subject at the center of national conversations around how to help students rebound from the pandemic and accelerate their learning.
Members of the National Assessment Governing Board believe it is important to use data to guide decisions related to helping improve student achievement. Notable data points related to the 2022 NAEP Mathematics Assessments include:
The 2022 Nation's Report Card showed the largest score declines in mathematics since students first took the assessment in 1990.
No state or jurisdiction saw improvements in math scores between 2019 and 2022.
The score declines in mathematics were particularly large in eighth grade.
Thirty-eight percent of eighth graders performed below the NAEP Basic level on the math assessment.
In fourth grade, the 2022 NAEP score declines in mathematics were the largest declines ever recorded for Black and Hispanic students.
The math declines in both grades were across all content areas. These include: number properties and operations; measurement; geometry; algebra; and data analysis, statistics, and probability.
"The eighth graders who took NAEP last spring are in high school today. We must invest in education so resources and supports are in place to accelerate student learning and close gaps that predated — but were exacerbated by — the pandemic. Otherwise, students will graduate and enter college and the workforce without the skills and knowledge we need to be globally competitive," said Beverly Perdue, former governor of North Carolina and chair of the National Assessment Governing Board, which sets the policies and achievement levels for the Nation's Report Card.
What's Next?
Current and former Governing Board member educators weigh in on how to accelerate math learning.
1 of 4

Dilhani Uswatte

Principal, Rocky Ridge Elementary School; Hoover, Ala.

"The  math learning gaps widened by Covid challenges vary by student.  In order to fill in these gaps and accelerate learning, there is even a greater need to differentiate instruction.  One way to do this is to invest in online learning platforms that can build individualized learning pathways and be accessed in the summer to prevent summer slide."

 

2 of 4

Mark Miller

Eighth-Grade Mathematics Teacher and Department Chair, Cheyenne Mountain Junior High; Colorado Springs, Colorado

"Accelerated learning in my classroom is the result of an ongoing process of knowing my students, prioritizing the essential content of our curriculum, setting appropriate individual goals, monitoring their progress, and adapting my teaching to ensure all students have equitable access to high quality instruction. Through this cyclical and personalized approach, my students have been able to navigate their mathematical understanding and accelerate their learning with success."

3 of 4

Shannon Garrison

Fifth-Grade Teacher, Stonehurst STEAM Magnet;  Sun Valley, Calif

"In my classroom and in classrooms across Los Angeles Unified School District, Cognitively Guided Instruction (CGI) is helping to close learning gaps experienced due to the COVID pandemic.  As students use their knowledge to solve various problems, CGI has helped educators utilize observation and questioning techniques to learn about student mathematical understanding. Teachers then use this knowledge to create opportunities for students to engage in problem-solving and mathematical discourse to deepen understanding of mathematical concepts."

4 of 4

Linda Rosen

Former CEO of Change the Equation;  Washington, DC

"What matters is how we respond going forward, especially when we know what works--deepening teacher knowledge and implementing personalized intensive tutoring for students. But not in a perfunctory way as is sadly so often the case in education: we must acknowledge that we are in this for the long haul and implement intensive programs designed to match research-based results of effectiveness. Only then will we see the learning losses reversed and ideally continue the upward trajectory of math scores we had seen through 2013."